Located at the mouth of Scotts Creek, this public launch site allows access to the Tuckasegee River and offers picnic tables and benches, trash disposal, and limited parking for non-commercial day use.  Commercial Use Permits are available through Dillsboro Town Hall.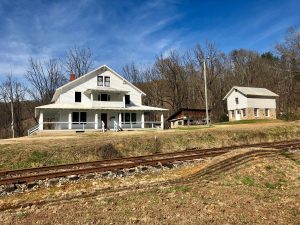 The Town of Dillsboro owns and operates the beautiful 16-acre Monteith Farmstead, located just several hundred yards from the downtown shopping district.
The Farmstead is on the National Register of Historic Places and offers a recreation area, picnic pavilion, public restrooms, and exercise paths. In addition, the Watershed Association of the Tuckaseigee River (WATR) maintains a series of easily-accessible, interpretive nature trails along the shoreline of adjacent Scotts Creek.
The Monteith Farmstead is open to the public from dawn until dusk, and sections may also be used for private events. Guidelines and a special occasion use permit are available through the Town Office.
In 2013, The Town of Dillsboro and the Appalachian Women's Museum entered into a formal agreement that enabled the Museum to begin restoration of the historic 1908 Farmhouse and adjacent outbuildings located at the Monteith Farmstead. Upon successful completion, the preserved buildings and immediate acreage will become the home of the Appalachian Women's Museum and house the Museum's collection, educational exhibits, archives, and offices.
Click here for a history of the Monteith Farmstead and the Appalachian Women's Museum.